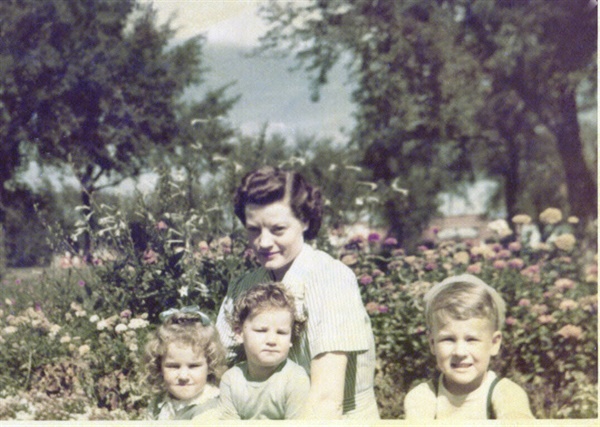 ARTISTS STATEMENT
My 'excessive exuberance' for massive flower gardens began in Denver, Colorado at age four and a half in the public SUNKEN GARDENS on Speer Boulevard. Currently, it's still my favorite place to return to---MENTALLY. My entire life has been living along both sides of the Rocky Mountain Range from Colorado to New Mexico even though my creative psyche is from somewhere in Mexico or Hawaii where lush exotic flowers grow. Go figure...snow and cold half of the year...but I always paint year-round lush flowers or cacti in my abstract oil painting land-escapes. I CAN NOT DENY MY LOVE OF LUSH GARDENS AND SAGUARO CACTI IN HOT DESERTS ( I've been painting stylized Saguaro cactus all my life but I've never been to Arizona or Mexico where they grow and thrive.) I want to paint 'non-objective' but with each new painting, abstract landscape elements appear and bam! Another hyper garden again. . .ALSO, I rarely paint any shadows/dark edges perhaps because I remember seeing SUNKEN GARDENS at an eye-level viewpoint in full sunlight and contrary to "rules", I break them like a rebel! (" you HAVE to use dark shadows".....) ha, not me. . . (I also use white as a color)
For unknown reasons, since early grade school, I've chosen an abstract style rather than realism. My elementary school teacher scolded me for not painting the skies blue and grass green. . . "NO JERRI. . . . . the sky is always blue..."
I was fortunate enough to have four years of private group art lessons during my second marriage in Lakewood, Colorado when my two sons were in grade school. She taught us extensive design principles, color theory and art history which I believe was equal to or exceeded college level courses. She also taught us to SEE "SPACE THROUGH PATTERN" or "PATTERNS THROUGH SPACE" which broke my FLAT SPACE style I began at sixteen. LUCKY, LUCKY me! My boring resume includes 22 juried, group art shows in Colorado, (then 3 in Raton,NM when I moved in 2019), 4 'solo' one-woman shows, 16 months in an Arts Center in Pueblo, CO and 11 juried online art shows. I'm currently in the BELEN ART LEAGUE gallery/gifts (where I now live) until either the COVID issue ends OR an honest art gallery FINALLY picks me up...! Still waiting!
Additionally, I am a proud member of NEW MEXICO WOMEN IN THE ARTS at newmexicowomeninthearts.org...in the NEW MEXICO STATE COMMITTEE, NATIONAL MUSEUM of WOMEN in the ARTS.
PS. I can not afford to pay those stupid ONLINE REPUTATION PROTECTOR services, so if you read online that I have a nasty criminal record or I'm a drug addict, they are lies and I can sue them for slander.
Thank you for visiting my website.....